how to create valuable content
Okay, so you know what kind of content to make. And where to put it.
---
But that doesn't tell you how to put together good content.
Content in general has four purposes:
Entertain
Attention-grabbing and entertaining content creates an emotional reaction in people, one you can use to engage with them further. This kind of content is usually for the first stage of the purchasing process. People don't really know you or your product, but they know they want to click on this link called "The Best Day of My Life: The First Time I Took LSD."
Inspire
Inspiring content reaches your audience on an equally emotional level. Maybe you get influencer endorsements, show product reviews, or share interviews you've done with people who have experienced this product in a way that moves your leads emotionally. This content can show up in the first or second stage of the purchasing process. The point is to inspire people to purchase by showing them the experience of others.
Inform
Remember how people are always looking for information? A huge amount of online content is dedicated just to giving people what they want to know. Once you've imparted knowledge, you can offer more, or introduce your product in the context of whatever you're informing readers about. For example: Someone searches for tools to get for their Twitch live stream. SYQEL can provide that information while including the app as one of the tools, or as an added "bonus" tool. Informative content can fall anywhere in the marketing funnel – knowledge is power, right?
Convince
This kind of content is all about convincing a target audience that this product is great, everyone loves it, and it's exactly what you need in your life. All of this content is made to give leads that final push towards making a purchase. We're talking live demos, product tours, free signups – everything it takes to move a lead towards subscribing.
We'll get into how to design content for each specific purpose. But first, some general rules that apply to all content creation.
No matter what you're promoting, no matter what industry it's in, there are rules:
All images and videos must look crisp.
SYQEL is literally a visualizer. You are selling a visual experience. If your target audience sees grainy images or boring, lackluster videos, they're not going to be convinced that SYQEL is beautiful enough to spend money on.

We recommend turning the framerate (found in the visualizer settings) up significantly to get higher quality visuals. We also recommend using a screen recording extension or app to capture demos, tutorials, and live streams instead of using the built-in one on your desktop. We recommend Camtasia specifically. It's a worthy investment.

We also recommend using a graphic design app like Canva (which is free) to design your own social media posts, videos, blog post banners, logos, and infographics. We recommend this now and forever, for everything you do.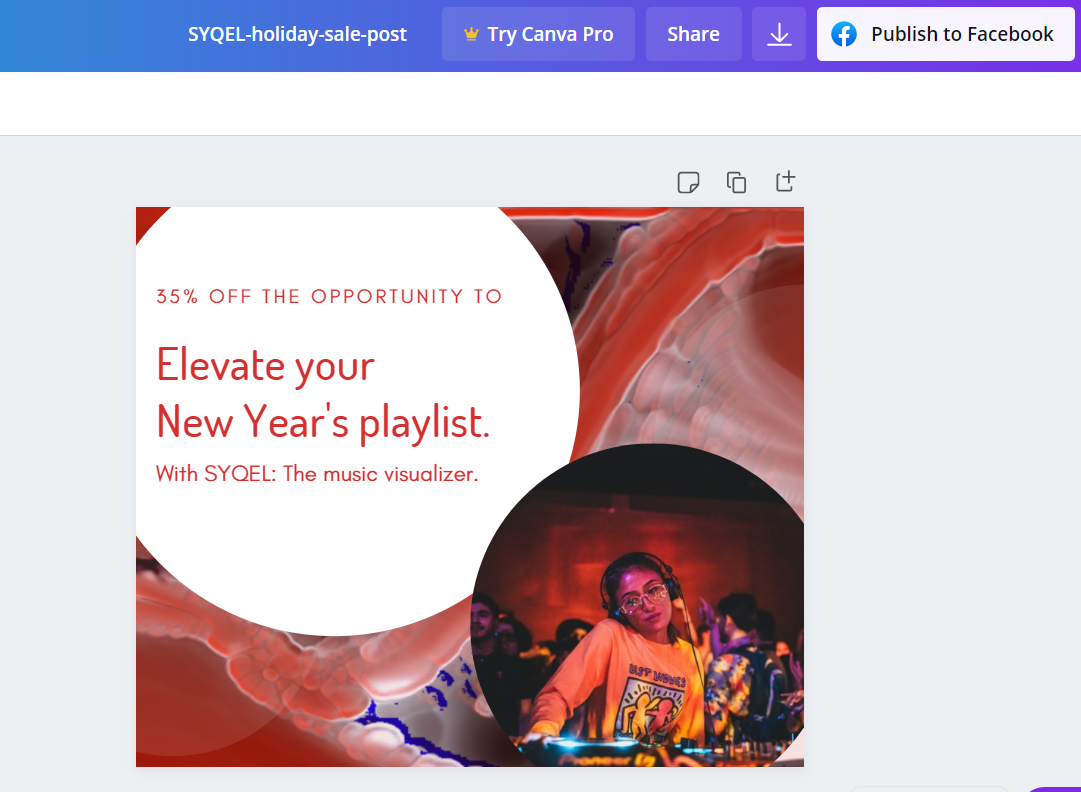 Social media posting should be consistent and relevant.
If you think a one-off post on a Tuesday afternoon is going to make you some cold, hard cash – it's just not. It doesn't work like that. Consistently posting ensures that both potential new leads and currently interested people will remember that you exist.

It's also a good idea to not post about LSD culture and put it under an "I love Ariana Grande" hashtag. Nothing against the artist. It's just not relevant.

We recommend using a social media content planning software like Buffer, or upgrading to Canva's paid account to access social media content planning capabilities.

If you're looking to just use what you have, plan out what kind of content you'll distribute, and where, on a calendar. It may help to set aside a day to just generate a bunch of content all at once and set alarms for when to post.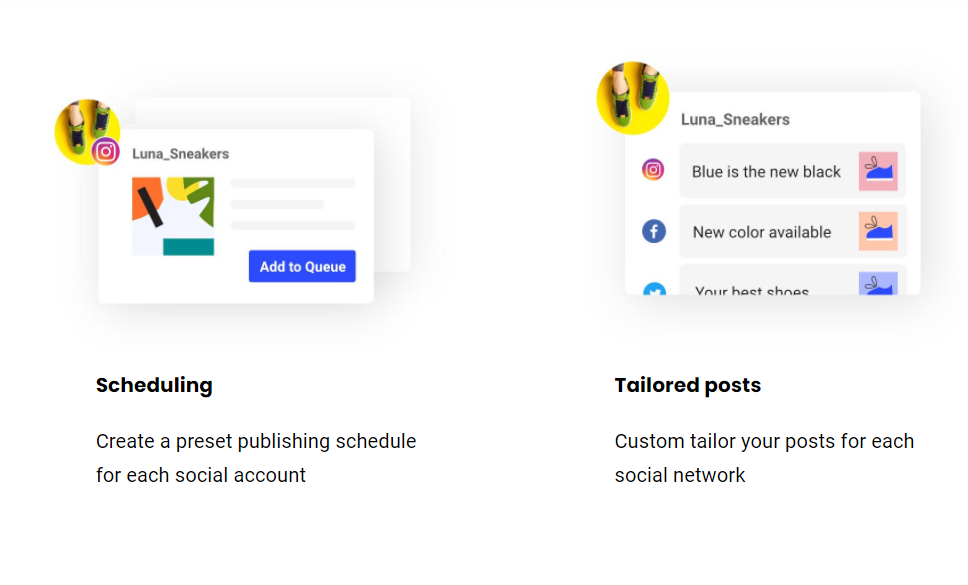 All content should fit the speech patterns and aesthetics of your target audience.
When you think of raves and psychedelic culture, you don't necessarily think of pastels and stiff language. Effective promotional content is appetizing to the eyes and ears of your audience.

So gear your coloring, imagery, and language towards your audience.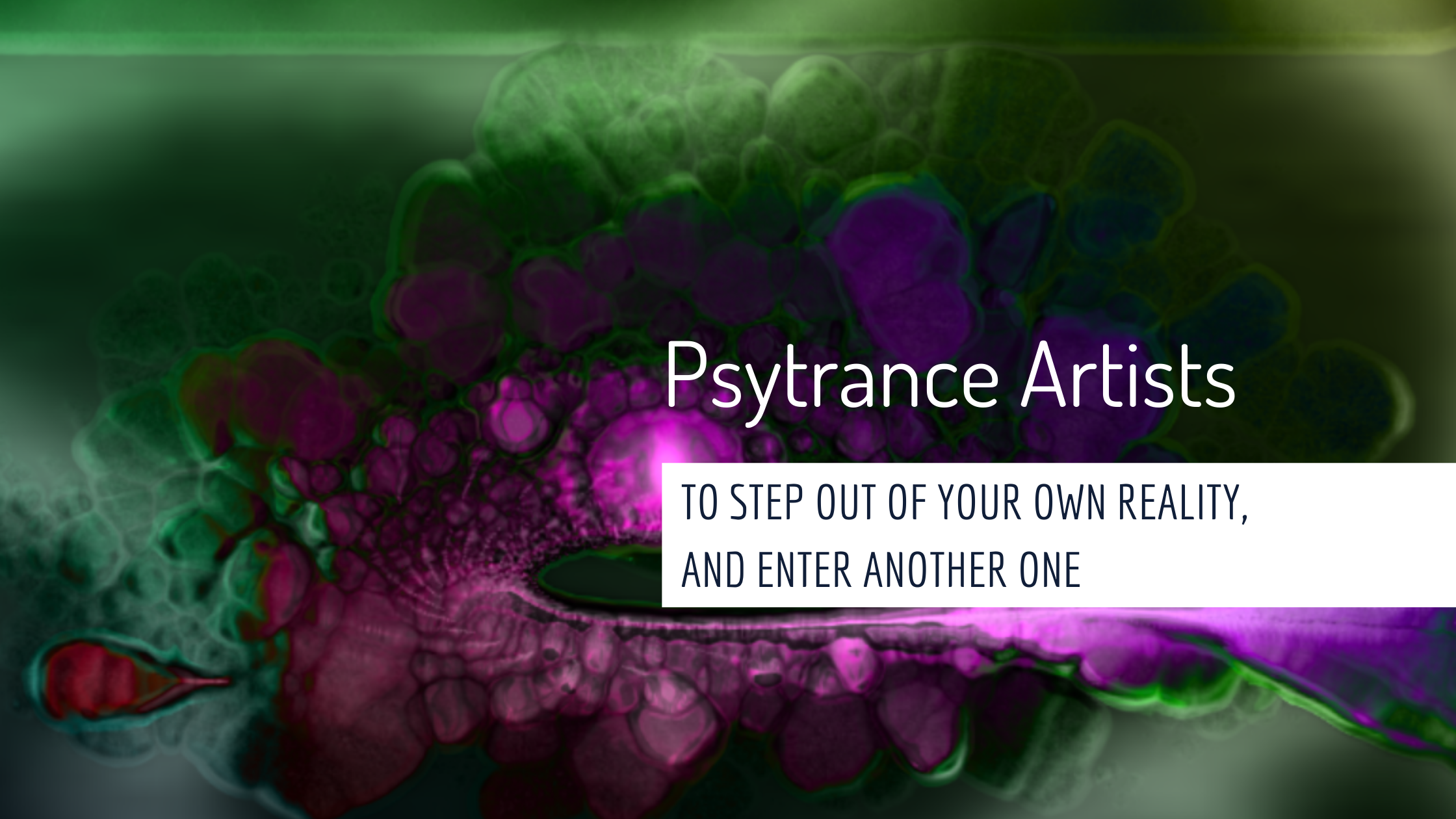 All content should be easily accessible.
This is especially true for events. Webinars or live streams should be easy to find and work with. If you're holding a live webinar, consider using webinar hosting software to enhance the experience of your attendees. If you're just using a meeting app like Google Meet or Zoom, make sure you have sent out meeting codes, reminders, and know how to use the software for everything you need.

People should also be able to see and load videos easily. SYQEL has a widget you can install on your website so that your videos are already prepared to be watched in the corner of your webpages.

And, of course, all written content needs to be clear, concise, with easy-to-read fonts and letter sizes.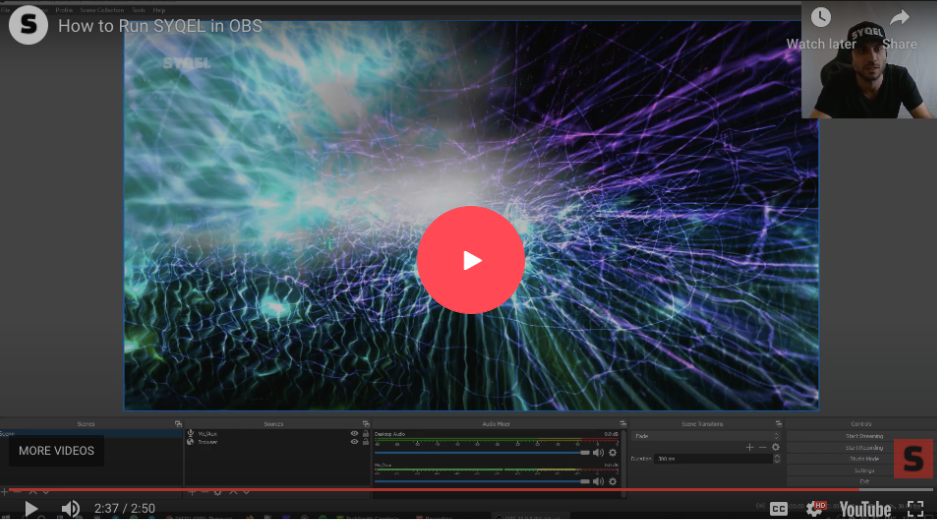 Creating Entertaining Content
This kind of content is free, low-stakes, and should be pretty immediately appealing.
make it funny
Everyone's looking for some stress relieving content, like clickbait or funny videos. Write funny articles with appealing titles. Post shareable memes about music. Film funny TikToks or Reels about when you listen to music with SYQEL. Funny content spreads easily.
tell a story
We are designed to hear and tell stories. Post interviews with prominent figures in your target audience. Tell your own story about your first rave, or about how you found your way to SYQEL. Be honest, candid, and show your emotion: These are what draw people in emotionally.
capture great visuals
Show more of the aesthetic side of SYQEL rather than an actual demo of it. Capture images with your screen capture tools and use them as backgrounds for social media posts and web banners. Use your screen recording tool and capture video of SYQEL in action. Include it at the end of blog posts and in social media posts.
include your audience
Specifically ask for something from your audience to contribute. Ask for song submissions on social media to visualize and post. Invite followers to be guests on your live streams. Send out a quiz about EDM artists or write a "What hallucinogenic would you be?" post.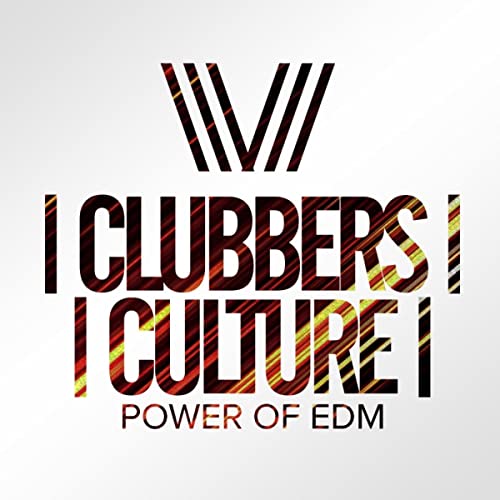 Creating Inspiring Content
This kind of content is geared towards showing potential users how others feel about the product. It's meant to inspire them to look into the product themselves.
Gain Trust Through Others
A trusted individual will have a much easier time selling a product than someone unknown, so partner with a public figure in relevant subcultures.
Collect Customer Reviews
Hearing how useful or entertaining a product can compel others to start looking into a product, so collect customer reviews from people you know who have used the product. And consider writing up your own product review on a blog.
Connect in Real-Time
Gather people together in community forums, chats, and hold events like live listening sessions. Talk about relevant interests and show off SYQEL.
Creating Informative Content
This kind of content will show up throughout the purchasing funnel. Informative content that gets people to become aware of you will provide general information, just to get them to your site. Informative content about the product itself helps your leads further consider using the product, and help put them in a position to make an informed choice.
write comprehensive how-to's
Offer your target audience general information that's relevant for them. Offer them something that has helped you, or that you want others to know. Write out explicit steps and include images. And add a short, interesting title. Posts like "how to promote your DJ sets," "how to trip safely," or "how to set up a rave in your living room" are very click-worthy.
offer original tips and best practices
Articles offering relevant tips also hold the title of click-worthy content. People like consuming things that they believe will help them. Create social media posts with tips like how to maximize your music's reach on social media. Write blog posts about the best practices for building a DJ set. Film a video showing leads a DJ's behind-the-scenes setup. Offer what has helped you or someone you know.
film tutorials
When you're trying to get people to notice you, tutorials can just be about anything relevant that you know about. If you know how to use OBS, show people. When you're explicitly moving leads towards purchasing, tutorials should be about the product itself. Film or write about how you (and others) use SYQEL in your daily lives. Film tutorials on how to add SYQEL to your various live streams. Write small tutorials about tweaking your SYQEL app settings.
host webinars and q&a sessions
Here you get to interact with your target audience live. This video-based medium should be engaging to live viewers, so ask them questions, ask for comments, and ask them to show what they're doing. In webinars, show them what you have mastered and how they can master it, too. In Q&A sessions, be accurate and concise. Point them to more resources like the SYQEL FAQ page if they need more info.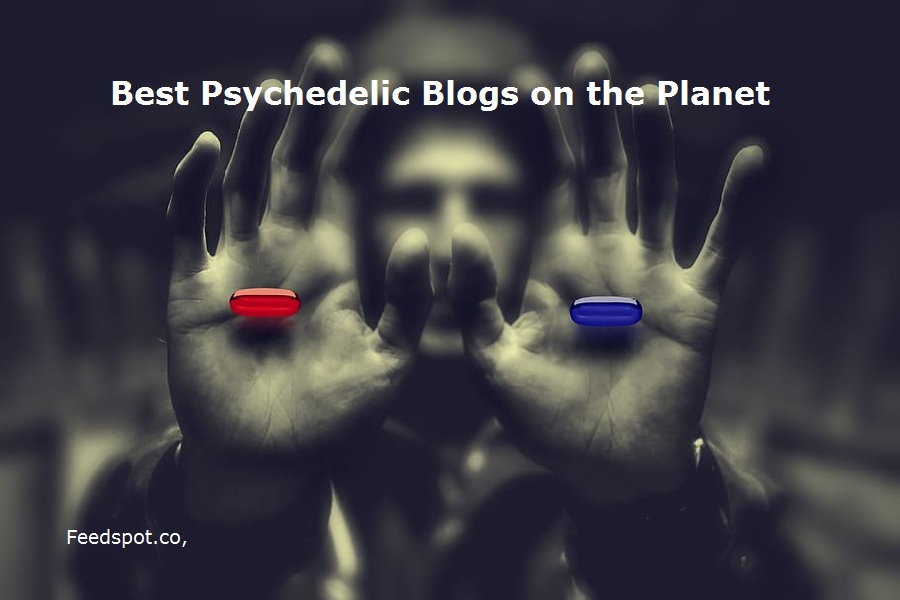 Creating Convincing Content
---
All content here should focus on breaking down every barrier a future customer has and getting them to the finish line, which is the one that reads "Thanks for subscribing." Your content should:
Answer Lingering Questions
Be clear and concise, telling your leads exactly what they need to know to feel confident about buying the product. Answer general questions with tutorials, live Q&A sessions, instructional articles, etc. Show them how to install the product, how to set it up, and create content to answer other questions as they come up. Answer specific, individual questions over chat or email, or send them to us.
Prove Your Product is the Best Solution
Save leads from doing extensive research about which product is the best solution for their needs. Compare SYQEL to other competitors through product review posts, easy-to-read infographics, and videos of using different products and the different outcomes they produce (SYQEL being the best, of course).
Show How Much Others Love the Product
Remind on-the-fence buyers how great SYQEL is, from a human perspective. Gather in-depth customer stories and testimonials to create a real vision of what the product can do for a user. Interview customers about their experience. Have other people write or film themselves talking about it, and send it to you. Ask for reviews on social media, and post the answers there. But whatever you do, make sure that you capture, through words or images, how the product has improved the lives of subscribers.

An easy example of continually using reviews: Instagram stories allow you to ask questions and then save the answers as a highlight. If you gather customer reviews over stories, you can save them as a highlight for new viewers to see as soon as they land on your profile.
Provide Incentives
Discounts and special offerings will always lend themselves to the cause – the cause being converting listeners into happy paid subscribers. This content should make the savings and the perks of buying blatantly obvious. No matter what you make, incentivizing content needs to put the incentivize front and center.

Advertise sales, special events, or new features on social media, as a banner on your website, or in a short blog post. There are also non-money related incentivizers. For example, everyone who signs up could have an original song featured on your social media platforms.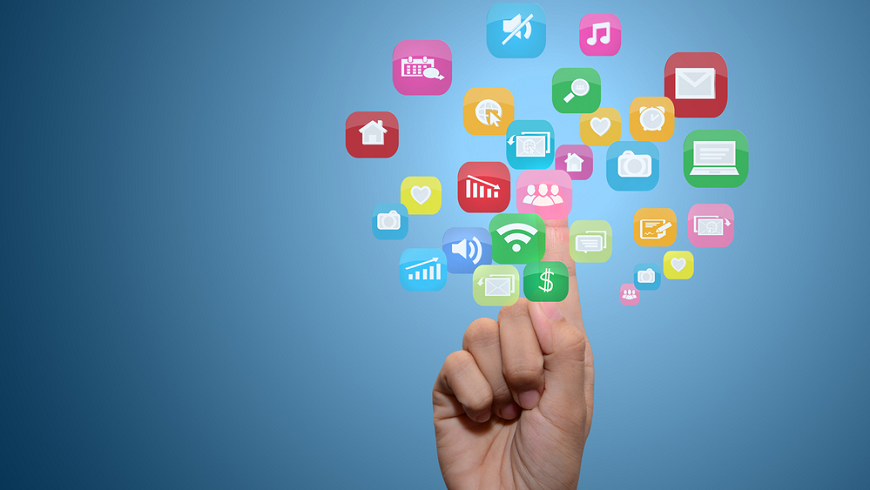 The best advice we can give is to think about you.
What makes you click on a link? Sign up for an email newsletter? What kinds of things do you search for about a product before you buy?

No matter what you're buying, the underlying motivations are the same.

For example, no matter what kind of product you're buying, you'll compare it to others. What makes one shine over the over? Figure that out, and use that to frame SYQEL as better than the other software in its industry.